Rent a motorboat in Martinique
Access pretty coves by the sea, meet dolphins (*), get closer to the Diamond Rock, dive into the bay of Saint-Pierre, discover the bat cave, snorkeling in uncrowded areas, spend the day with friends or family: there are plenty of great opportunities to discover when renting a boat in Martinique.
At Nautitan, we offer a fleet of motorboats, with or without a license, for all your boat trips on the South Caribbean coast of Martinique.
How do the boat rentals work with Nautitan ?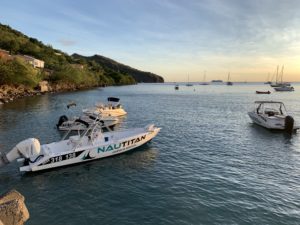 All our departures are from Anses d´Arlet, where we are based in the south of the island.
Boat rental with a license
Observe sperm whales (*) in the bay of Fort-de-France, dive with turtles in the southern coves, swim with dolphins (*) on the North Caribbean coast or a have a good day of watersports off the coast. If you have your boat license (you can also take your boat license with Nautitan), you can take advantage of our fleet of 5 fully equipped boats to satisfy all your desires for sea trips in Martinique, for the day or half-day:
The Excess Marine, 300 horsepower for 13 people max, offering remarkable stability on the waves
The Bayliner VR6, 250 horsepower for 10 people max for unparalleled comfort
The Quicksilver Activ 605 Open, 150 horsepower for 7 people max for an unbeatable quality/price ratio
The Quicksilver Activ 505 Open, 90 horsepower for 5 people max, fuel-efficient for smaller budgets and couples with or without children
A Sea Pro 228 DC, 250 hp for 9 people plus a skipper who will guide you
A sunbathing area, space for a picnic, audio equipment using Bluetooth and a wake/ski tower for your wakeboarding, water skiing or sub wing sessions (the innovation of the moment!) or towed buoy are included on all boats.
As an alternative, we also offer a variety of equipment: towed buoys, child or adult wakeboard, kneeboard, wake skate, skis / mono, subwing; but also the rental of a cooler, fishing equipment, waterproof bag and snorkeling kits. If you wish, you can even add a skipper service to your excursion.
Also note that all our boats are available for hire for the Tour des Yoles with or without a skipper
(*) according to the rules of decree n ° R-02-2017-03-15-003
Boat rental without license
For a maximum of 4 adults and 2 children under 10, easy to maneuver, our small 6 HP license-free boats will allow you to enjoy pleasant times at sea, for half a day or a full day.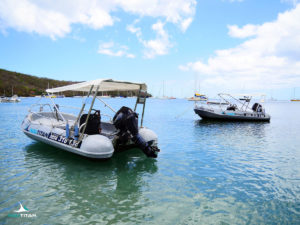 Steering wheel, Bimini for the shade, swimming ladder, equipment and safety vests for adults and children … we offer two types of boats without a license, fully equipped:
For more comfort, we offer an optional cooler, fishing rods, PMT kits (fins, mask, snorkel) and waterproof bags.
On the day of your departure, the first step will be to sign the rental agreement and provide a deposit cheque of 700 €.
Then we will carry out a full briefing of the safety rules, the operation of the boat, places of interest to discover from the bat cave to Anse Chaudière, and the journey times, to allow you to leave comfortably and enjoy your rental without a worry.
As a bonus, we will give you a map of the route before letting you go for your half-day or full-day excursion. The wild coast of Anses d´Arlet is yours, with its share of turtles, tropical fish and rocks teeming with corals, algae, and rich marine life, and above all its unusual little coves which you can enjoy in peace!