To navigate freely among the most beautiful spots in Martinique, indulge in thrilling experiences and entertain yourself in boating, you will indeed have to obtain your boat license.
At Nautitan, we will tell you all about how the boat license works and how to obtain one!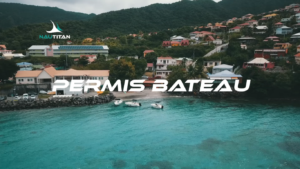 When do you need a boat license in Martinique?
If you were thinking of driving a motorboat over 6 hp (4.5 kilowatts of power), then, the pleasure boat license is compulsory! It is also required when operating a regular jet ski or over 6 hp without supervision.
However, the boat license is not necessary for driving a sailing boat or a mixed boat, sail and motor, although it may be required for yacht charter.
You can therefore rent the Excess 26, Bayliner VR6, Quicksilver 605 and Quicksilver 505 boats from the Nautitan fleet with the boat license.
Nautitan also offers boat rentals without a license: the Whaly 370 and the Regiflex Cap 400.

What are the penalties in case of transgression?
In the event of an inspection, not having a boat license exposes you to a fine of € 1,500 and the boat's potential immobilization. You will also have to pay a fine of 38 € if you have a license but do not have it with you.
Note: having a boat license allows you to leave the wheel to people on board who do not have one but under your supervision!
For this, several conditions must be met: firstly, the person without a license must be at least 16 years old; secondly, the license holder must have held it for at least 3 years and have made an accompanying declaration of conduct.
The fine will amount to € 150 in the absence of a declaration to Maritime Affairs and € 1,500 for a license of fewer than 3 years.
Besides, the boat license may be withdrawn in the event of excessive speed, severe recklessness, drunk driving, and of course, non-compliance with the navigation code. You will then have to wait 3 months before retaking your boat license.
Which boat license to pilot in Martinique?
Since navigation is done mainly at sea in Martinique, you will need the coastal license. The coastal permit allows you to drive up to 6 miles – or 11 km – from a land shelter, day or night, with no engine power limit and a boat up to 20 meters in length.
If you are going to go beyond 6 miles, you will need to go through the offshore extension, allowing you to drive on the high seas.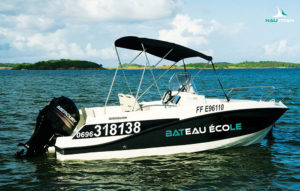 What are the conditions for obtaining the boat license?
There are not many conditions to be able to take the boat license! However, it is necessary to:
Have European nationality or a residence permit
Be at least 16 years old
Present a medical certificate attesting to good physical abilities, determining good eyesight and hearing.
It is possible to practice accompanied driving under the age of 16, provided that the guide has had his license for more than 3 years and has made a request for a personal authorization with Maritime Affairs.
It is even possible to drive a motorboat from the age of 14, but only as part of a sporting activity supervised by an instructor.
What do the boat license tests consist of?
The passage of the boat license is subject to two types of assessment: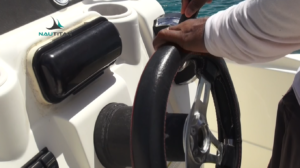 A theoretical evaluation in the form of multiple-choice questions. It is then a matter of answering 30 questions within an hour with a maximum of 5 errors accepted. For this, 10 hours of theoretical training will be offered to you to calmly pass the coastal license code.
A practical evaluation in order to validate the theoretical knowledge. The student must complete at least 3 hours of practical training on our boat and be assessed by the trainer.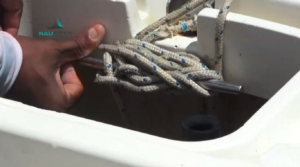 The coastal license test consists of acquiring knowledge in terms of the boater's safety and responsibilities, weather recognition, beaconing, signals, environmental protection and, of course, in terms of driving and mastery of maneuvers.
If ever you fail your boat license, don't panic. You can retake it within 6 months. The repurchase of a tax stamp of 38 € will then be necessary.
Pass your boat license with Nautitan
With our school, set all the chances on your side to obtain your boat license with a success rate of over 95%.
NAUTITAN Bateau École welcomes you in the southern Caribbean, at Le Diamant and Anses d'Arlet, at the time slots that suit you (morning, afternoon, evening, and weekends), in small groups (max 4 people).
The trainer can also travel to Lamentin and Fort-de-France directly to your home and for groups of 3 people or more throughout Martinique.
Practical: Generally individualized, you will spend 3 hours on our Quicksilver 605 Activ school boat departing from Bourg des Anses d´Arlet for your training/evaluation.
Theory: 4 lessons of 2h30, i.e. 10h, with an approved trainer to prepare you confidently for the maritime affairs exam.
Coastal Permit tax included:
Practice / Course + Candidate's booklet + Exam Session Registration (excluding tax stamps): 300 €
Course + Test booklets (optional): 40 €
Tax Stamps: 108 €