In terms of water activities, there is plenty to do in Martinique. Diving in superb spots, catamaran or motorboat trips in the Caribbean Sea (the opportunity to take your boat license), surfing at Tartane, kitesurfing at Pointe Faula, jet skiing, windsurfing, but also water skiing or wakeboarding in the Caribbean sea!
Where to ski or wake in Martinique?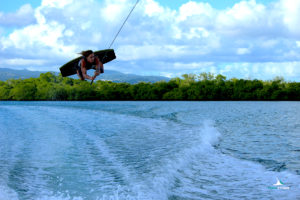 At NAUTITAN, we invite you to try wakeboarding on the magnificent water body of Anse Chaudière, between the village of Anses d´Arlet and Petite Anse. You can also go on a bi-ski and finish your session on a mono-ski: how great!!!
Ideally located in Anses d'Arlet, our nautical base is perfect for lunch on grilled queen conch or saury in the village's restaurants. Let yourself be tempted by a coconut sorbet for afternoon tea near the pontoon or eating local dishes in a relaxed atmosphere at Kay Fredo's in Petite Anse or L'Aisance or l'Oasis Restaurant  in le Bourg.
Head to the south of the island for water skiing and wakeboarding enthusiasts. The Martinique Wake Park allows you to train in an artificial pool using a ski lift, and it is possible to go water skiing in Sainte-Anne and in the Marin in particular.
How are the ski and wake sessions with Nautitan?
On our boats equipped with either a ski/wake mast or a ski/wake tower, we offer two-pass sessions of 15 minutes per person.
Our two boats, the Bayliner VR6 (10 seats) of 250 hp and L'Excess (13 seats) of 300 hp, are specially equipped for wakeboarding. The high pull point of the arch (wake tower) allows a smooth ride for beginners and will satisfy freestylers to propel themselves from the wake wave.
Water sports equipment – skis, wakeboard, wake skate, kneeboard, towed buoy, sub wing, life jackets – which are renewed every year to offer top quality and safety, are of course made available.
Beginners, intermediate and confirmed levels: our ski and wake sessions at Anses d´Arlet are open to everyone.
From a shoe size 33, children will be able to do their first wake ride.
Our certified instructor will offer you sessions with the best weather conditions to enjoy a great session.
And if you are already familiar with water skiing or wakeboarding, and you want to progress, do not hesitate to choose a personalized half hour session with our coach (a certified instructor) to benefit from expert advice.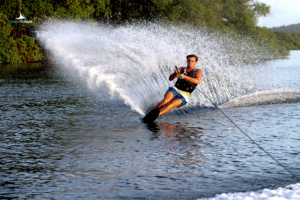 (two-pass sessions of 15 minutes – €50 / pers + €10 accompanying persons)
The course of the wake / ski session
Once on the boat and before taking the plunge, put on your skis so that the instructor can explain how to get out of the water.
Don't panic; the wakeboard and the life jacket allows you to float in complete safety.
95% of beginners manage to get out of the water during the 2nd part of the half hour session!
For intermediate and confirmed levels
Together with the instructor, we will define your progress goals.
Note: if you know how to get out of the water and make your turns, you are in the intermediate category. If you can already jump thanks to the boat's wave, then you are confirmed.
For water skiing, there are 3 levels. The first one corresponds to get out and up of the water, the second to knowing how to make your turns on both sides of the boat's wake and the last, the practice of mono skiing.
Whatever your level, we will help you improve your skills!
Meet us quickly at Bourg des Anses d´Arlet for a great ski/wake session in Martinique.